blog post
How to Use Facebook Ads to Sell Out A Concert
One of the most frequent complaints levied by musicians, bands, and venue owners is this: 
the old "go-to" methods for getting people to your shows are losing their luster
.
It's not all bad, but the landscape for marketing yourself has changed greatly. First, let's look at what doesn't work. Then, we'll get into a tried and true marketing technique used every day by professional promoters and venue owners. The best part? It's incredibly easy, and likely cheaper than what you're already trying. If you're a musician or venue owner, and you have $20 and 20 minutes, the rest of this post is a must-read.
The light of every marketing tactic you used to use is flickering out. Flyering is a waste of paper and you have no way of telling who responded to a flyer. Facebook and Instagram come up short in terms of actually reaching people when you post about your show. And let's face it, friends and family don't always keep an open calendar.
Plus, to get anywhere on Facebook, you have to pay now, right? That's gotta be expensive…
At least, that's what most people think. The reality is that Facebook might be the cheapest way to put eyes on your event and get new fans in the door. Using Facebook Ads, you can get in front of local people who are actually likely to enjoy your music. No guesswork on your flyers, and wasted time spamming your Facebook and Instagram about the same event.
So, how can you get started?
Before you dive in, you need a few things. You'll need a Facebook page for your band or venue, you'll need a Facebook Ads account, you'll need about $20, and a basic understanding of the Facebook Ads platform*.
*I know that might sound intimidating, but Facebook has made their ad platform super easy to use. A quick Google search will give you a hundred starter guides to show you the Facebook Ads 101 basics.
If you're ready to use Facebook Ads to get more people in the door at your next gig, keep reading. These steps will serve as a framework for putting together a campaign that will help attract new fans!
The Steps
Get Your Campaign Going
1. Setting up your campaign
We're going to start by creating a "Video Views" campaign, and you'll set your campaign budget to $20 total. The video you'll use in this campaign will ideally be your band's best live work.
2. Setting up your Targeting
Facebook Ads gives you a handful of tools that will help you show your video to people who are most likely to attend your show and like your music. Let's break down some of these targeting tools, and why you'd use them.
Location – People who are far away from your gig probably aren't going to travel across the country to see your show, right? You'll want to use the Location targeting tool to show your ad in a 10 mile radius around the location of your gig.

Interests – You want people who will enjoy your music. In the "Interests" section, you can target people based on pages they've liked on Facebook. Choose 3-5 well known bands to whom your band (or the band you're promoting) sounds similar, and narrow your audience using those bands. If you sound like Johnny Cash, people who like Johnny Cash might also like you. It makes sense to show your video to those people!
3. uploading your video
After you've set your location and interest targeting, you'll need to upload a video and do some writing to attract viewers. The video you run in your ad should ideally be your band's best live video; it should give a good idea of your talent and overall sound. The text you include with your ad should engage potential viewers and answer the question "Why should I go to this show?" This is where you'll sell them on attending! 
4. connect attendance with your ad
When it's time to play your show, you'll want to be able to tell how many people were brought to this event by your hard work! Link out to your ticketing platform or create a written/verbal discount code that will allow you to see how many people bought tickets after seeing the ad. If your tickets cost $10 each and 4 people come to your show from the ad, then that $20 was well worth it! 
5. Play your show
 (Hopefully to a full house!)
Ok, let's manage expectations a bit here. Building a fanbase is a long process, and $20 on Facebook isn't a magical shortcut. Don't expect to use this ad campaign to sell out a huge arena on your first try. The goal here is to attract a few new fans to EACH gig. Over time, you'll be able to invest more into your ad efforts, and you'll have already gained a ton of new fans through your past marketing efforts. Your reputation will grow and you'll make a little extra money each time, too!
That's it!
We broke down a basic framework for a super simple Facebook ad. This ad is designed to show to local people who might actually become fans of your band. It's highly effective and often cheaper and easier than flyering, repeatedly posting, and many other marketing techniques.
If you're a musician, band, or venue owner looking to get more fans in the doors, it's worth giving this Facebook ad a shot!
P.S. If you liked this Facebook ad framework, be sure to subscribe to our email list for more tips and tricks on scaling your business, growing your following, and gaining new leads and clients!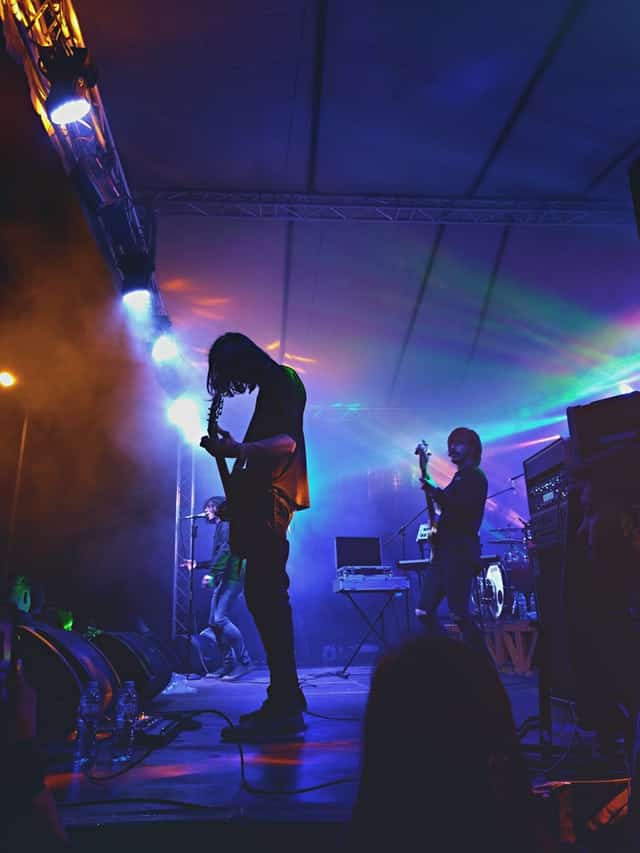 Copyright 2020 Advantage Strategies, LLC
Let's Grow.